Services For Your Business
At Apple Valley Waste, we know efficient trash disposal and construction and debris disposal are the last things you want to think about. Let us help you with the logistics of managing clean and clutter-free commercial spaces and construction project sites! With a variety of container dimensions, configurations, and multiple service level options, we have what you need for worry free waste management at your business or project site. Apple Valley Waste proudly serves commercial industries of all types in our Maryland, West Virginia, Washington D.C., and Virginia service area.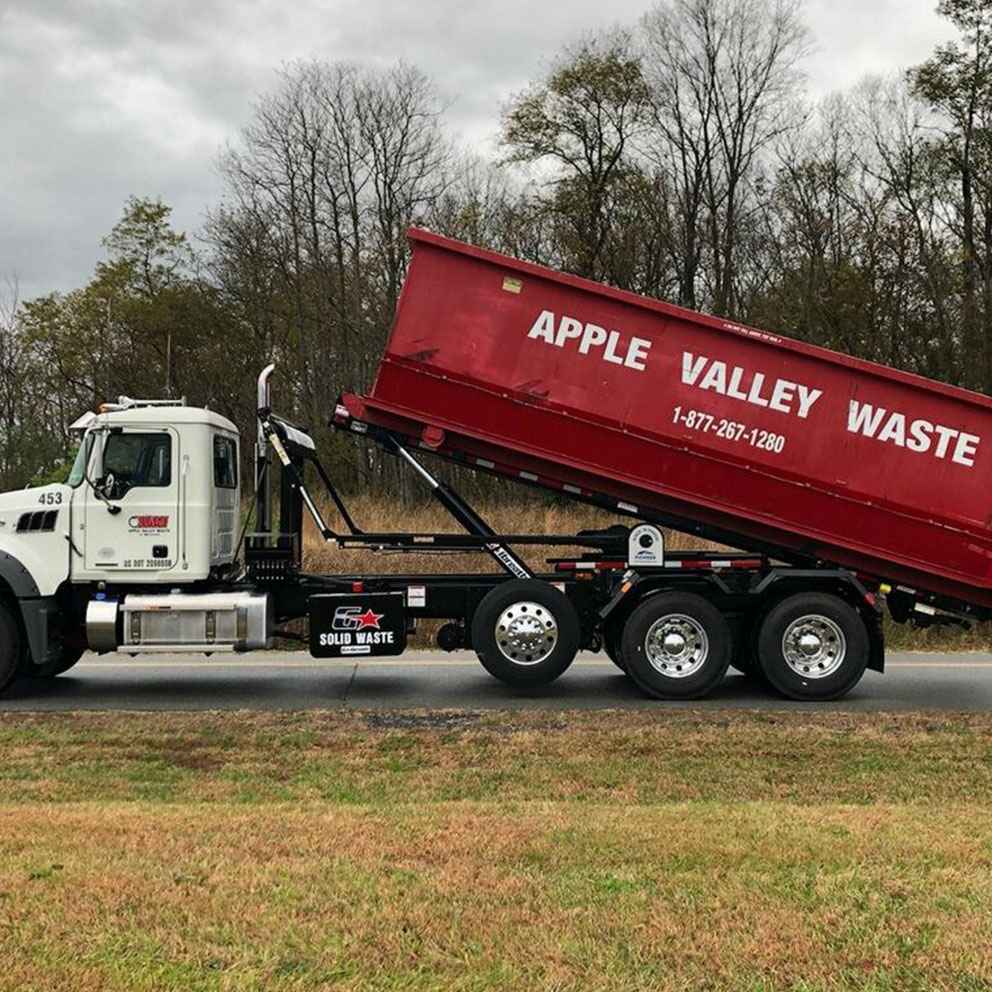 Find the right container rentals for your business or project site needs!
With a wide variety of dumpster sizes, commercial recycling containers and service options, Apple Valley Waste is eager to help you find the right solutions for your business or construction waste management needs.
Our roll-off rental containers, ranging from 10 to 40 cubic yards (depending on location) can accommodate all types and sizes of projects across industries. We meet your waste disposal challenges with creative and efficient solutions, so you can focus on the work that needs to get done without worrying about the mess.
Depending on your location, we offer 2-to-8-yard roll-off containers; trash compactors for retailers, institutions and manufacturers; rear- and front-load container rentals and single stream and solid waste recycling. We will even pick up your trash where a container is not allowed.
Sign Up For Services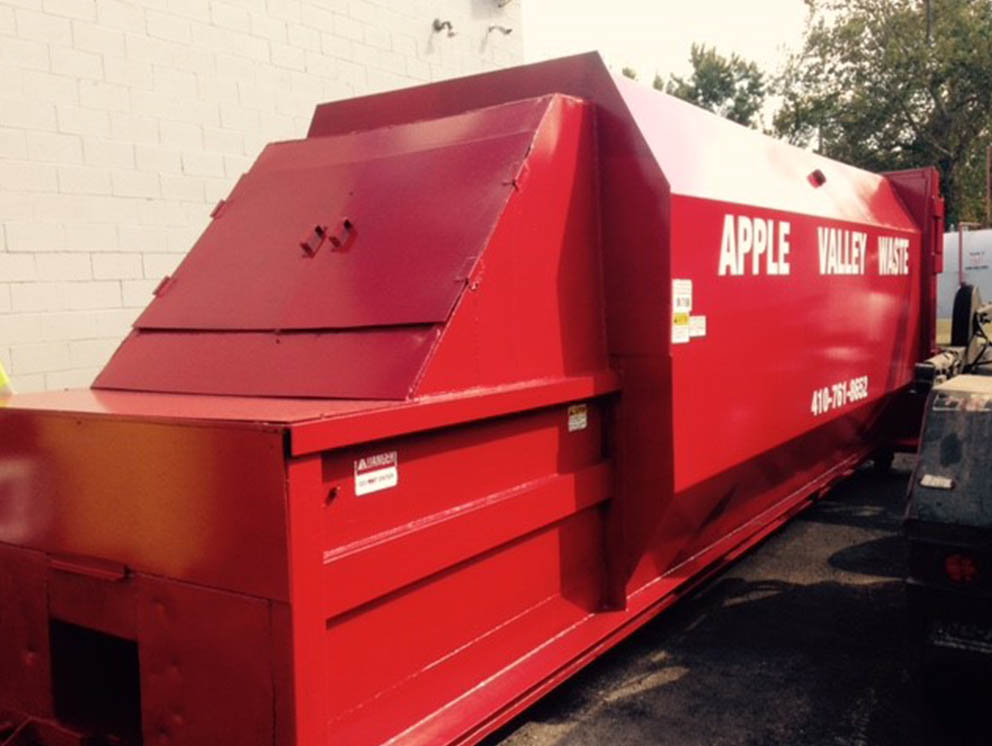 Trash Compactors
A cost-effective and super-efficient disposal solution, our trash compactors are an excellent choice for businesses that generate a lot of waste or are tight on space. Trash compactors compress your trash, making it less bulky and easier to dispose of. Call us for service levels and options!
Roll-off Rentals
For major cleanouts or construction or demolition project sites, a 15- or 30-cubic-yard Roll-Off rental container is a necessity. An on-site dispatcher ensures efficient container delivery and removal, according to your project needs and timeline.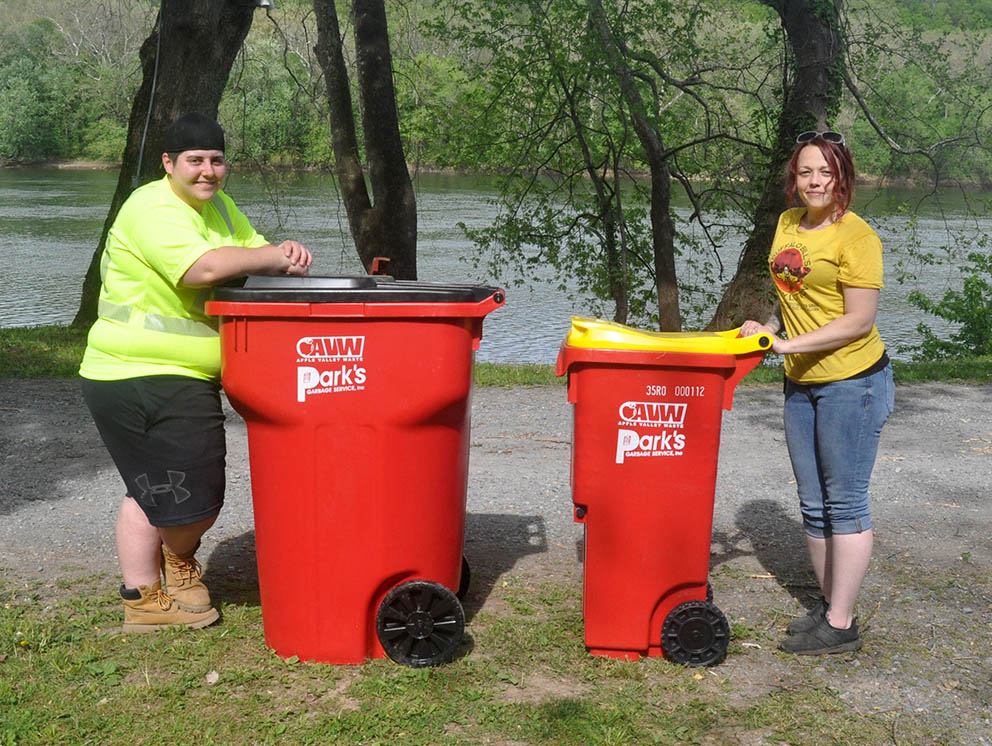 Personalized Service with Custom Solutions
We know that not all projects are created equal, and that some industries generate more waste than others. With our wide variety of dumpster sizes and service options, we have what you need to manage your business' waste, whether a short-term project or as a long-term customer. Contact us today to discuss waste management solutions tailored to YOUR business' varied needs!
Testimonials
We know that top-notch customer service is a must for steady customer satisfaction. See what some of our customers think about our service!
I give AVW my highest recommendation. The office staff is professional and always willing to assist me when I call. The gentlemen on our route are simply amazing! I never see loose trash at any neighbors or our own home. They grab everything and always give plenty of notice if there will be a change in our route for the week. I see so many complaints about the cost ... I believe the cost is very reasonable for weekly trash pick-up along with the monthly allowance of heavy items...saves me time of never having to go to the dump. Think of this before complaining about cost: trucks, fleet maintenance and insurance, taxes, disposal fees, fuel and salaries all cost money. Thank you AVW for being top notch in service!
Char S.
AVW is very dependable and accommodating. Trash is always picked up on time. The service professionals always haul away every bag I put out; they rarely reject anything. If I want anything special to be picked up (like a full-size mattress, which I just did), all I have to do is shoot them a quick email.
Jeffrey C.
Our company Power Component Systems has been using Parks Dumpster Service for over 5 years now. Since bringing them into our workload in State College they have never skipped a beat. Brenton is an excellent sales rep and dispatcher. I don't know all the drivers personally but Tyler does an exceptional job as well. They are always willing to go that extra mile. We use their sister companies as well (Hometown and Apple Valley Waste). Great vendor no doubt and I wouldn't replace them for anyone else. Their whole team does a great job executing the needs of their clients.
Brad D.