Sustainability
From trash into fuel. Sustainability you can see.
Apple Valley Waste is revolutionizing the waste management industry with the help of Entsorga, the nation's first resource recovery facility to convert mixed municipal solid waste and non-hazardous materials into an EPA-recognized renewable fuel with Entsorga Italia's patented HEBioTTM process. The Entsorga facility recovers plastics, biomass and carbon-based materials from the waste it receives from Apple Valley and converts them into renewable fuel. The fuel, called Solid Recovered Fuel, is then used by major manufacturers and industries requiring large amounts of energy as a eco-friendly, cost-effective alternative and/or supplement to fossil fuels.
Diverting waste from landfills, protecting the environment
At Apple Valley, we know the urgency of responsible waste management. Doing our part to protect the environment and keep the spaces where we live, work, and play clean is critical to our mission to be your go-to waste management provider. With the help of our partners at Entsorga, we are working tirelessly to make a positive mark on our environment with innovative, technology-driven solutions. By recovering every material we can for tomorrow's energy needs, we are diverting waste from our area landfills while simultaneously supporting new, science-backed energy solutions. Sustainability in action.
We invite you to join our mission of conscientious waste management through cutting edge technology and science that is paving the way for a more environmentally sustainable future!
Sign Up For Services
Recycling through Apple Valley Recycling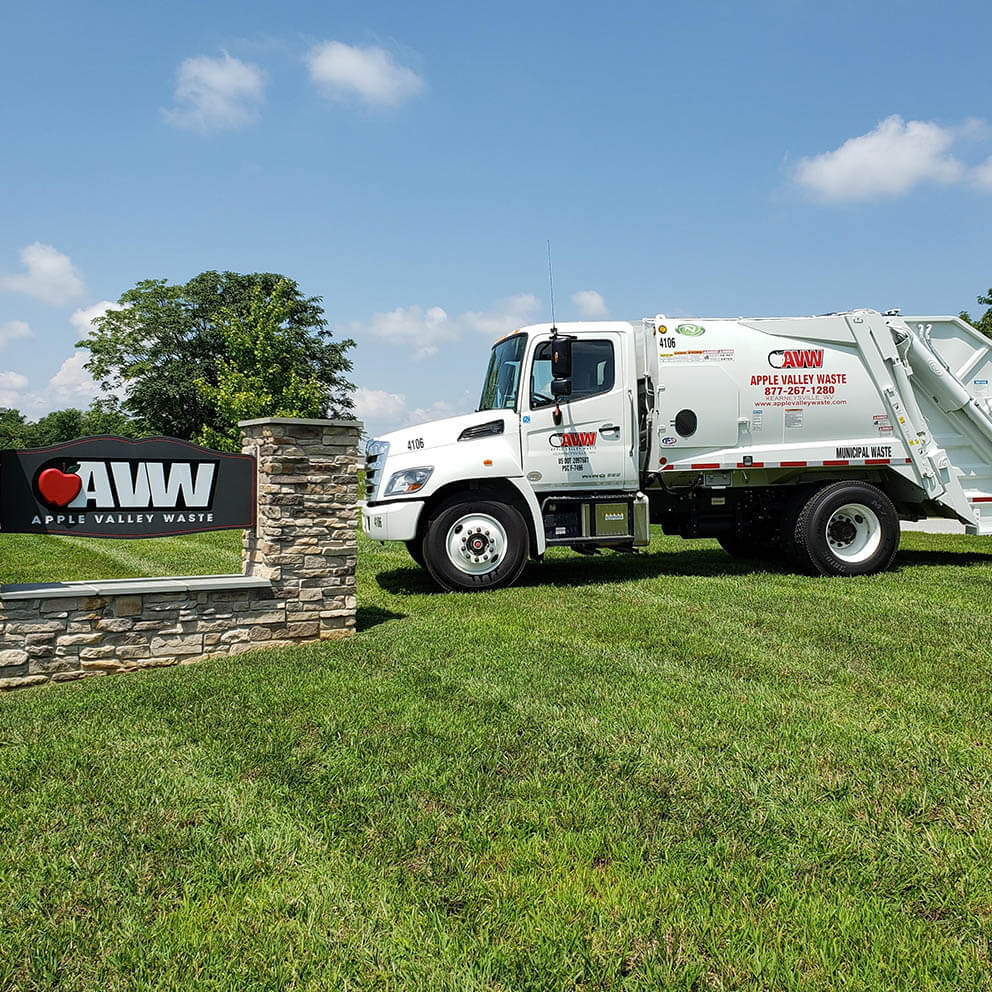 Recycling takes effort and a willingness to be intentional about the products and materials we dispose of. We are on board – and we hope you are, too! Our state-of-the-art single stream recycling center accepts recyclable materials around the clock, processing 10 tons of recyclable material per hour. Our education center frequently offers opportunities for visitors and customers to gain a fuller understanding of how their recycling efforts pay off and what we do with their recyclable material.
To learn more about the impact of Apple Valley Recycling Center's partnership with Apple Valley Waste or to learn more about the importance of sustainable waste management education:
Visit Apple Valley Recycling Center
Items we accept
Magazines and Phone Books (catalogs and soft cover books)
Newspaper (inserts and brochures)
File Folders and Office Paper (all colors)
Mail and Greeting Cards (junk mail and envelopes)
Corrugated Cardboard (boxes, paper bags and beverage holders, flattened and broken down)
Paperboard Boxes (cereal, pasta and tissue)
Paper Cartons (milk, juice and egg)
Plastic Containers (#1 through #7)
Metal Cans (aluminum, tin and foil)
Items we DO NOT accept
Glass bottles
Plastic bags
Window glass
Mirrors
Light bulbs
Dishes (including Pyrex and ceramics)
Paper towels and facial tissue
Styrofoam
PVC
Recyclable containers that have not been emptied or rinsed
Hazardous materials and medical waste
Electronic waste including VCR tapes, CDs and DVDs
Scrap metal
Pots or pans
Practicing Good Stewardship
As community residents, we partner with you as stewards of this place we call home. Apple Valley Waste understands the urgency of practicing environmentally sustainable waste management. We know that every person – ourselves included – can make an impact.
We know you want easy, clear-cut and sustainable waste management solutions, focused on shaping a cleaner environment for tomorrow's generations. We want that too, and are eager to work with you to achieve it. Let us be your go-to source for responsible, sustainable waste management!